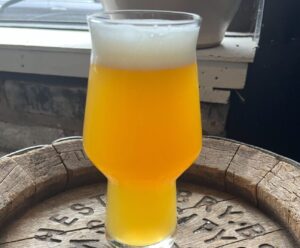 Rochester has several new beers on tap just in time for warmer Spring weather:
Belgian Saison
This beer features prominent fruity esters with light notes of bubblegum and spice. A dry finish with light bitterness keeps it light and refreshing. Saisons were originally brewed for farmers and field workers to enjoy after a long day of harvest so it's a perfect beer to enjoy in the sunshine on our Crossroads sidewalk seating or Parkville deck.
DDH Hazy IPA XII
Our twelfth iteration in our double dry hopped series, DDH Hazy IPA XII features El Dorado hops plus an experimental hop called HS17701. The finished product showcases prominent citrus zest aromas, and the flavor is surprisingly sweet with notes of candied mandarin oranges and an enjoyable dry finish.
Hefeweizen
This classic German style wheat beer features prominent, but balanced notes of banana and clove and a soft doughy wheat backbone. It's deliciously refreshing on a hot day.
Irish Red Ale
This classic Irish Red Ale features a slight caramel aroma and light toasted biscuit flavor. It's a well-balanced easy drinking pint best enjoyed celebrating with friends. This Emerald Isle favorite also pairs well with Rochester's returning Reuben sandwich and brand new corned beef hash burrito.
Montmorency Cherry Cider
Rochester's popular Montmorency Cherry Cider is back! This delicious apple and cherry cider, fermented with Montmorency cherries, is a perfectly balanced blend of sweet and tart. You'll want to come get yours soon because this always goes fast!
Nitro Orange Creamsicle IPA
We added a twist to our popular Orange Creamsicle IPA by creating a creamy Nitro version of one of our most popular brews. This New England style IPA is loaded with pureed oranges, Madagascar Vanilla Bean and sweet milk sugar. With a sweet, orange forward flavor and a smooth mouthfeel, this beer reminds you of a melted popsicle. Nitro available at Crossroads location only. Regular Orange Creamsicle on tap in Parkville.
To find all our new beers on tap plus even more craft beer, here's Rochester's full tap list. Some of our special releases are brewed in very small batches. If you don't want to miss a limited release, you can stay up-to-date by following Rochester Brewing and Roasting on Facebook, Instagram or Twitter. Cheers from us to you!