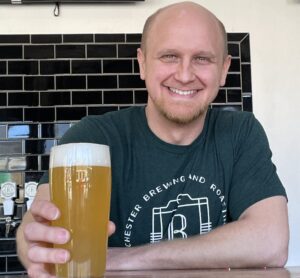 Rochester has just tapped a new hefeweizen. This classic German style wheat beer features prominent, but balanced notes of banana and clove and a soft doughy wheat backbone.
A Little Background
Our head brewer, David Bulcock, started brewing hefeweizen during his early days of home brewing more than a decade ago. In fact, it's the first beer that garnered him a medal as a home brewer and is one of his favorite styles of beer to make. He has been perfecting and finessing the recipe and technique ever since.
"When I first started brewing, I made a hefeweizen specifically for my friend Isaac Huffman," David recalls. "I called it the 'Huffeweizen.'"
It's funny the way things come full circle as today David brews full time for Rochester, and his friend Isaac works at the Crossroads as a part-time bartender.
"I love hefes because of how flavorful yet accessible they are," David says. "They bring a lot of character in a very light beer that appeals to a broad range of tastes. In my opinion, it's the perfect summer beer."
History
Originating in the Bavarian region of south Germany, this traditional beer literally means "wheat with yeast." The primary type of beer brewed in Bavaria, this refreshing beer flourished until Germany passed Reinheitsgebot, the German purity law. Reinheitsgebot imposed strict guidelines on what ingredients could be used to brew beer. When Bavaria adopted the purity law, which allowed only barley, hops and water to be used, production of wheat beer declined.
Luckily, Bavarian nobles loved their "weissbier," so they passed a law allowing a single brewery in the village of Schwarzach, a Czech border town, to make it. Eventually, other breweries were allowed to start brewing wheat beer again, although in Germany, darker versions dominated the market. In the United States, the lighter variety grew in popularity during the craft beer boom of the 90s. Hefeweizens remain popular today due to their spicy sweet flavor and easy drinkability.
Refreshing on a Hot Day
Rochester's Hefeweizen tastes great on a warm day, making it the perfect beer for the sunny days ahead. Stop by to try our new hefeweizen or one of Rochester's other craft beers.