New Beer Alert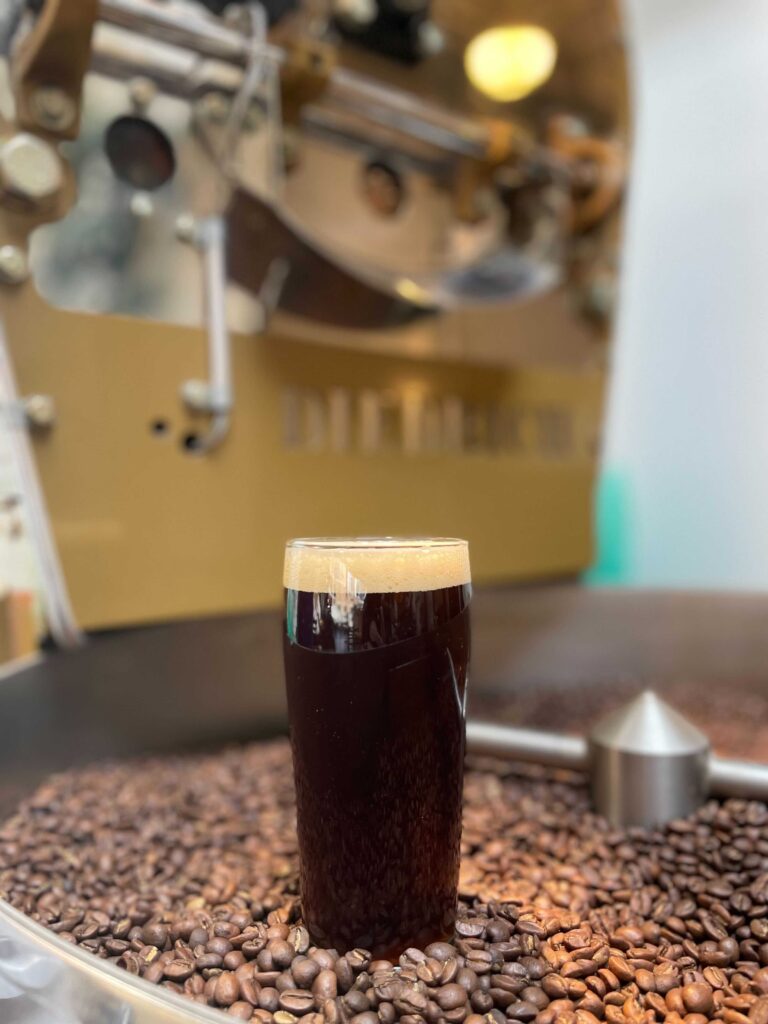 : Coffea Arabica Ale

Our Love Potion #2 coffee blend features prominently in the most recent version of our Coffea Arabica Ale. The base beer is brewed specifically to allow our in-house roasted coffee to shine. You will note a subtle sweet and almond-like aroma, with flavors of chocolate and fruit jam. This is the 4th Coffea Arabica Ale we have brewed, and it showcases the talents of our head coffee roaster, Philip Enloe. With this ale, coffee is the star. Its unexpected coffee-forward flavor tastes more like an alcoholic cold brew than anything else.
Did you spell it wrong?
No. Coffea arabica is the name of a species of coffee, probably one of the original species to have been cultivated by man. It currently represents about 60 percent of worldwide coffee production. First cultivated in Yemen, and documented as early as the 12th century, Coffea arabica results from the hybridization of Coffea canephora and Coffea eugenioides. Native to southwestern Ethiopia, Coffea arabica grows today in scores of countries across the world. 
History
Early recorded history mentions a beverage made from roasted coffee "seeds" that helped prolong working hours. It first spread throughout Egypt and Turkey, eventually caffeinating the world with its magic beans. Trade routes expanded coffea's reach, and the original species were combined with other types. Caffea arabica's relatively low acidity provides the perfect counterbalance for blending with higher acidity coffees from Central America and East Africa.
Coffee + Beer
Incorporating coffee into beer brewing emerged during the craft brew boom in the 1990s. That's when breweries like New Glarus and Redhook released their first coffee stouts. Its popularity grew, and home and craft brewers started experimenting with different coffee varieties and roasting methods. Rochester brews its Coffea Arabica Ale using a new specialty roast, Love Potion No. 2. This signature blend combines coffee beans sourced ethically from Costa Rica and Ethiopia. Its medium body with a touch of brightness shines through for a refreshing beer that can be enjoyed any time of day. Both Rochester locations have Coffea Arabica Ale and several other craft beers flowing now.