Rochester's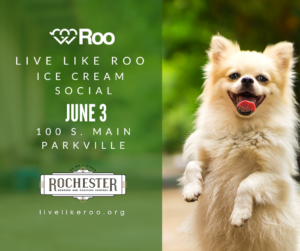 Parkville location is hosting a 
Live Like Roo
Ice Cream Social fundraising event Saturday, June 3, from 8 a.m. to 3 p.m. Grab a beer for yourself and a sweet treat for your pup while helping pets with cancer at the Live Like Roo Ice Cream Social!
During the event, we will be accepting donations to benefit the
Live Like Roo Foundation
, a nonprofit that helps fund care, treatment, surgeries and support for pet parents whose fur babies have been diagnosed with terminal illnesses. Since 2016, the Live Like Roo Foundation has provided $1.7 million in grants to help pets and their parents. They are still going strong with the help of donations and the hard work of volunteers. Every year, locations across the world host Live Like Roo Ice Cream Social fundraising events on the same day.
The inspiration behind Live Like Roo's whole operation was a rescue pup by the name of Roosevelt who, towards the end of his fight with bone cancer, would always look forward to enjoying ice cream with his parent Sarah Lauch. Sarah founded Live Like Roo in his memory. We are inspired to live each day filled with the joy Roosevelt brought all of those around him.
"Though Roosevelt had only a few months to live, we hope that he inspires everyone to #LiveLikeRoo now and forever." Sarah Lauch
.
.
Rochester Brewing and Roasting is Kansas City's first craft beer and coffee roastery under one roof. We've created welcoming spaces to gather – day and night. Come early for the coffee, stay late for the beer!