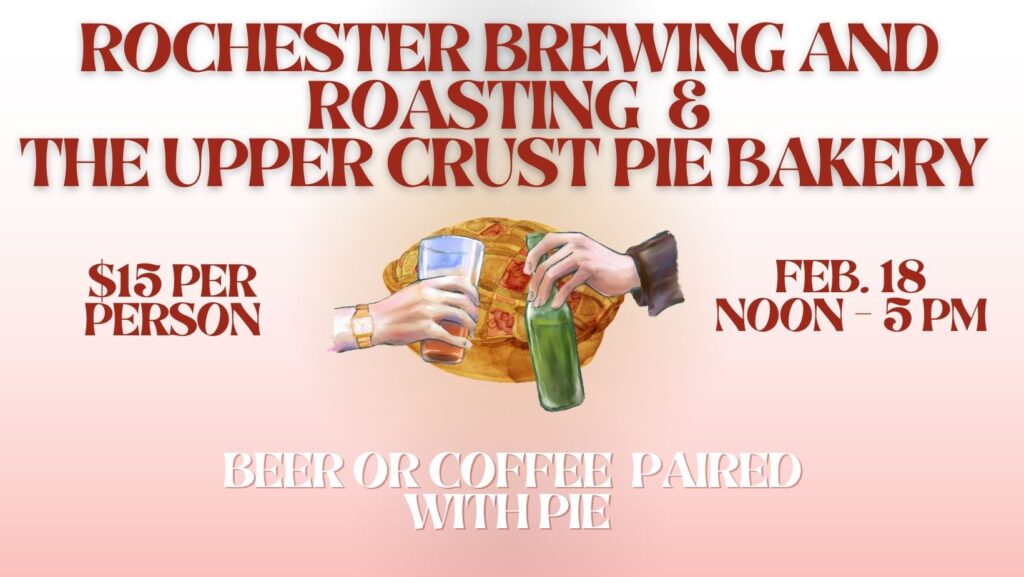 Join us Saturday, Feb. 18, for Rochester Brewing and Roasting's Pie Pairing at our Crossroads location, 2129 Washington St., for a delicious collaboration with local favorite The Upper Crust Pie Bakery. Tickets for this curated event cost $15 and include four flights of pie paired with tasters of coffee or beer.
About the Pie
The Upper Crust Bakery, located in Overland Park, is a hometown bakery known for serving up flaky and delicious pies "as good as grandma's." Classic and seasonal favorites top the menu of this popular local bakeshop started by Midwestern sisters. The Upper Crust boasts a wide range of whole pies and smaller Cutie Pies as well as pie by the slice.
About the Coffee and Beer
Rochester's freshly roasted coffee is hand selected and blended to create a variety of complex flavorful brews. With careful attention to detail, our brewed coffees satisfy even the most discerning coffee lover. Our craft beers are created with this same level of dedication throughout the brewing process. From coffee stouts to IPAs to lagers to sours and every style in between, you're sure to find something to tempt your palate. Rochester's current tap list of regular favorites and rotating seasonal beers can be found here.
Don't Miss Out!
This popular ticketed event sells out fast, so be sure to reserve your spot early. $15 tickets include four selections of delectable pie paired with beer or coffee that complements each flavor of pie. Whether you love homemade pie, freshly roasted coffee or craft beer — or all three — you won't want to miss Rochester Brewing and Roasting's Pie Pairing!