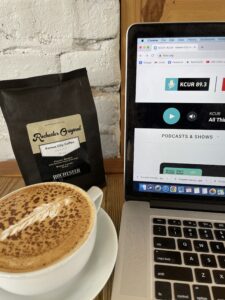 Rochester Brewing and Roasting is delighted to announce that we are now the official coffee sponsor of KCUR, Kansas City's local NPR station. In addition to creating the highest quality coffee and craft beer, Rochester is also committed to supporting our local community, art, music and neighbors. This new partnership with KCUR aligns with our efforts to create community here in Kansas City and support local whenever we can.
Community Connections
Other ways Rochester connects with our community include the Finest Folk First Friday collaboration with our West Crossroads neighbors, Folk Alliance International and the Hispanic Economic Development Corporation. Rochester provides coffee and beer when the Folk Alliance International office hosts local and national musicians. After the show, we encourage you to support our friends at the Hispanic Economic Development Corporation at the Party Under the I-35 Bridge. Music, food trucks, vendors and entertainment are lined up on most First Fridays, with a focus on supporting entrepreneurs and micro-businesses.
Our community connections continue in Parkville where we have hosted fundraisers for community organizations like Live Like Roo and participated in the city's popular Parkville Microbrew Fest and Rally in the Alley.
Supporting Local Art
Rochester also supports local art by featuring different artists each month at the Crossroads location as well as hosting live music the first and third Wednesdays of each month. Our spacious Crossroads event space also serves as a rehearsal and performance area for the Fountain City String Quartet, Dreamline Theatre Company, the KC Shanty Choir and many other community arts organizations.
Supporting Public Radio
Our friends at KCUR also support local arts, music, entertainment and business as they tell the story of our city with award-winning independent journalism.  We couldn't be prouder to be the official coffee sponsor of KCUR. Now whenever you are staying Up To Date, looking for local music or art or listening to the city's best blues, R&B, soul, jumpin' jazz and zydeco, you know that the folks behind this great programming are caffeinated with Rochester coffee!