Celebrate one year in business with us!
Can you believe it's been a little over a year since we first opened our doors to the public last July 2019. We officially opened as a full functioning Roastery AND Brewery in September of 2019.
Rightfully so, we want to celebrate YOU. Because if it wasn't for you, our KC community and our friends purchasing online around the country, we literally wouldn't be operational. Thank you for all your support.
We are throwing a party September 5, 2020 at Rochester and you ALL ARE INVITED! Bring a friend, or three. We will have things for everybody throughout the day.
RSVP on our Facebook page here.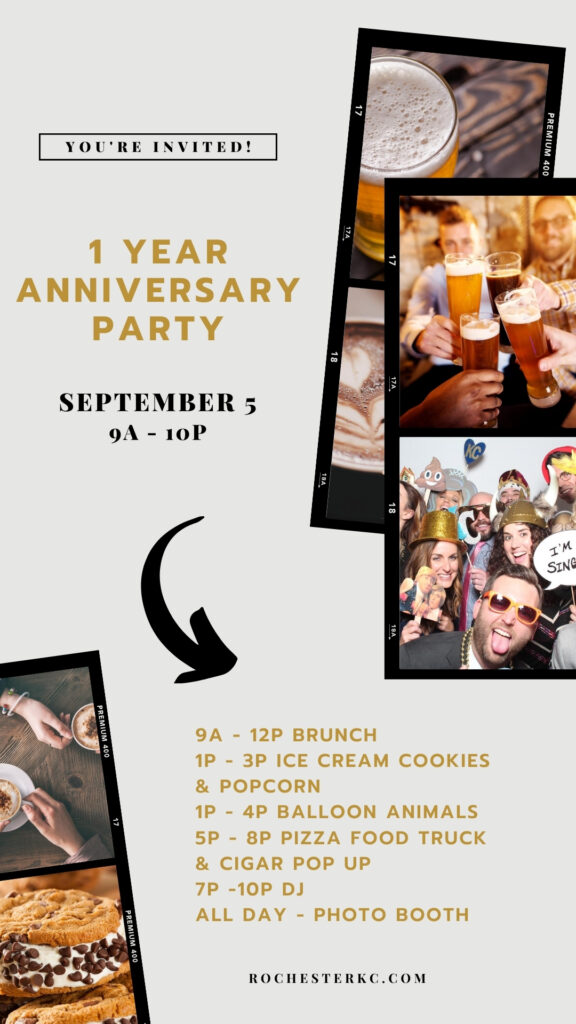 The day's schedule:
9am-12pm
We will have The Waffler who specializes in breakfast and brunch but has killer chicken and waffles.
1pm-3pm
Cookies and Creamery- We love having our friends come by.  They will be serving delicious ice cream sandwiches.  Their menu also consists of craft popcorn and cotton candy.
1pm-4pm
Balloon Artist- Come and get an awesome balloon animal made just for you.
5pm-8pm
Stag Pizza- Come and try the best Neapolitan Pizza in town.  We are so excited to offer this local food truck at our space.
La Cultura- Our friends at La Cultura are close to opening their new location.  We will have them posted up with a great selection of cigars. You can purchase cigars to smoke or save them.  This will be an ongoing relationship and we are excited to have them in the neighborhood.
7pm-10pm
DJ will be announced ASAP.
9am-10pm
Banana Who? Booth will be providing a killer photo booth experience with their VW Bus Booth. Hop in as much as you'd like and grab your digital copy from the QR code. (Practicing germ free of course)